Viruses have three potential transmission routes:
Human-to-human at close range by "direct contact".

By short- and long-range airborne transmission via small or large droplets (aerosols) containing virus particles (the aerogenic route).

By indirect transmission via surfaces (from person to a surface to another person).1,2
The short- and long range aerogenic transmission routes are shown in Figure 1.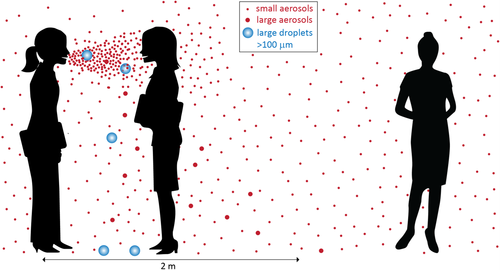 Figure 1 Transmission of SARS-CoV-2 via the air; Source: Jimenez.3
Transmission of the SARS-CoV-2 virus (and other viruses) primarily occurs at short distances through droplets and aerosols generated by various respiratory functions like breathing, talking, coughing, and sneezing.4–15 The resulting sound levels of these respirations is related to the amount of particles generated. The amount of time between infection and droplet generation plays an important role in the quantity of virus particles present in the exhaled aerosols.16 The available literature on the topic consistently finds a higher risk of transmission at short distances. Well-known guidelines, such as the 1.5-meter directive from institutions like the RIVM, have been designed with this in mind.
Originally, direct transmission through large droplets was considered the primary route for infection. However, increasingly this perspective is being critically examined and challenged, as aerosols can play an important role in viral transmission at short distances too. 17–20 Beside posing a risk at short distances, aerogenic transmission (by aerosol) can also occur over longer distances. Due to their small size, these aerosols can spread through the air and thus throughout a space.1,21 There is an increasing amount of literature that examines the aerogenic transmission route. 18,21 Some studies indicate that infections have occurred through the aerogenic route.18 However, collecting direct evidence exclusively for the aerogenic route is very challenging. Currently, it is not possible to determine the degree to which specific transmission routes contribute to infections. In other words, it is unknown what fraction of infections occurs via the aerogenic route, both at short and long distances. Conversely, it is also unknown what portion of infections occurs through other routes. 1,4,11,13,22–31
The third and final known infection route is indirect transmission of a virus via surfaces and hand contact. Scientific consensus and insights regarding this transmission route are mainly derived from research on other respiratory viruses.
Virus-containing droplets and particles settle on surfaces. The SARS-CoV-2 virus can remain infectious on a surface for several days 32–34 After contact with this surface, virus particles can subsequently be transmitted from hands to the mouth, nose or eyes (mucous membranes), leading to infection. While the importance of this route is confirmed by the literature, the extent to which it contributes to the occurrence of infections is not known.1,5,26,35–42 The CDC considers the chance of infection with the SARS-CoV-2 virus through this last route to be small.43,44
Furthermore, some literature has found that SARS-CoV-2 virus particles settled on surfaces can be inactivated through exposure to UV-C light.45–47,48 UV-C light might therefore be used for disinfecting surfaces. However, it should be noted that UV-C is harmful to humans, and indoor surface disinfection should only be performed when no individuals are present. Additionally, the effectiveness of this virus inactivation method is highly dependent on the UV-C exposure dose, time, and other conditions. For example, in outdoor settings, sunlight can deactivate the SARS-CoV-2 virus within 20 minutes.49
1.          WHO. Modes of transmission of virus causing COVID-19 : implications for IPC precaution recommendations. Sci Br WHO. 2020;(March):10-12. doi:10.1056/NEJMoa2001316.5.
2.          RIVM. Richtlijn COVID-19. 23 november.
3.          Jimenez JL, Marr LC, Randall K, Ewing ET, Tufekci Z, Greenhalgh T. What Were the Historical Reasons for the Resistance to Recognizing Airborne Transmission during the COVID-19 Pandemic ? SSRN Electron J. 2021;(May):1-18. doi:10.1111/ina.13070
4.          Kutter JS, Spronken MI, Fraaij PL, Fouchier RA, Herfst S. Transmission routes of respiratory viruses among humans. Curr Opin Virol. 2018;28:142-151. doi:10.1016/j.coviro.2018.01.001
5.          da Silvia GM. An analysis of the transmission modes of COVID-19 in light of the concepts of Indoor Air Quality. :1-12.
6.          Gralton J, Tovey ER, Mclaws ML, Rawlinson WD. Respiratory virus RNA is detectable in airborne and droplet particles. J Med Virol. 2013;85(12):2151-2159. doi:10.1002/jmv.23698
7.          Asadi S, Wexler AS, Cappa CD, Barreda S, Bouvier NM, Ristenpart WD. Aerosol emission and superemission during human speech increase with voice loudness. Sci Rep. 2019;9(1):1-10. doi:10.1038/s41598-019-38808-z
8.          Morawska L, Johnson GR, Ristovski ZD, et al. Size distribution and sites of origin of droplets expelled from the human respiratory tract during expiratory activities. J Aerosol Sci. 2009;40(3):256-269. doi:10.1016/j.jaerosci.2008.11.002
9.          Stadnytskyi V, Bax CE, Bax A, Anfinrud P. The airborne lifetime of small speech droplets and their potential importance in SARS-CoV-2 transmission. Proc Natl Acad Sci U S A. 2020;117(22):19-21. doi:10.1073/pnas.2006874117
10.        Qian H, Zheng X. Ventilation control for airborne transmission of human exhaled bio-aerosols in buildings. J Thorac Dis. 2018;10(Suppl 19):S2295-S2304. doi:10.21037/jtd.2018.01.24
11.        Liu YY, Ning Z, Chen Y, et al. Aerodynamic Characteristics and RNA Concentration of SARS-CoV-2 Aerosol in Wuhan Hospitals during COVID-19 Outbreak. bioRxiv. 2020;86(21):2020.03.08.982637. doi:10.1101/2020.03.08.982637
12.        Wei J, Li Y. Airborne spread of infectious agents in the indoor environment. Am J Infect Control. 2016;44(9):S102-S108. doi:10.1016/j.ajic.2016.06.003
13.        Cowling BJ, Ip DKM, Fang VJ, et al. Aerosol transmission is an important mode of influenza A virus spread. Published online 2013:1-12. doi:10.1038/ncomms2922.Aerosol
14.        Kluytmans van den Bergh MFQ, Buiting AGM, Pas SD, et al. SARS-CoV-2 infection in 86 healthcare workers in two Dutch hospitals in March 2020: a cross-sectional study with short-term follow -up. medRxiv. Published online 2020.
15.        Knibbs LD, Morawska L, Bell SC. The risk of airborne influenza transmission in passenger cars. Epidemiol Infect. 2012;140(3):474-478. doi:10.1017/S0950268811000835
16.        Linde KJ, Wouters IM, Kluytmans JAJW, et al. Detection of SARS-CoV-2 in Air and on Surfaces in Rooms of Infected Nursing Home Residents. Ann Work Expo Heal. 2022;XX(Xx):1-12. doi:10.1093/annweh/wxac056
17.        Randall K, Ewing ET, Marr LC, Jimenez JL, Bourouiba L. How did we get here: what are droplets and aerosols and how far do they go? A historical perspective on the transmission of respiratory infectious diseases. Published online 2021. doi:10.1098/rsfs.2021.0049
18.        Peng Z, Rojas ALP, Kropff E, et al. Practical Indicators for Risk of Airborne Transmission in Shared Indoor Environments and Their Application to COVID-19 Outbreaks. Environ Sci Technol. 2022;56(2):1125-1137. doi:10.1021/acs.est.1c06531
19.        Tang JW, Bahnfleth WP, Bluyssen PM, et al. Dismantling myths on the airborne transmission of severe acute respiratory syndrome coronavirus (SARS-CoV-2) Narrative. J Hosp Infect. Published online 2021. doi:10.1016/j.jhin.2020.12.022
20.        Chen W, Qian H, Zhang N, Liu F, Liu L, Li Y. Extended short-range airborne transmission of respiratory infections. J Hazard Mater. 2022;422(June 2021):126837. doi:10.1016/j.jhazmat.2021.126837
21.        RIVM. Aerogene verspreiding SARS-CoV-2 en ventilatiesystemen ( onderbouwing ).
22.        Tran K, Cimon K, Severn M, Pessoa-Silva CL, Conly J. Aerosol generating procedures and risk of transmission of acute respiratory infections to healthcare workers: A systematic review. PLoS One. 2012;7(4). doi:10.1371/journal.pone.0035797
23.        Li Y, Huang X, Yu ITS, Wong TW, Qian H. Role of air distribution in SARS transmission during the largest nosocomial outbreak in Hong Kong. Indoor Air. 2005;15(2):83-95. doi:10.1111/j.1600-0668.2004.00317.x
24.        Grosskopf K, Mousavi E. Bioaerosols in health-care environments. ASHRAE J. 2014;56(8):22-31.
25.        Lindsley WG, Blachere FM, Thewlis RE, et al. Measurements of airborne influenza virus in aerosol particles from human coughs. PLoS One. 2010;5(11). doi:10.1371/journal.pone.0015100
26.        Chen W, Zhang N, Wei J, Yen HL, Li Y. Short-range airborne route dominates exposure of respiratory infection during close contact. Build Environ. 2020;176(March):106859. doi:10.1016/j.buildenv.2020.106859
27.        Moriyama M, Hugentobler WJ, Iwasaki A. Seasonality of Respiratory Viral Infections. Annu Rev Virol. Published online 2020:1-19. doi:10.1146/annurev-virology-012420-022445
28.        Shiu EYC, Leung NHL, Cowling BJ. Controversy around airborne versus droplet transmission of respiratory viruses: Implication for infection prevention. Curr Opin Infect Dis. Published online 2019. doi:10.1097/QCO.0000000000000563
29.        Buonanno G, Stabile L, Morawska L. Estimation of airborne viral emission: quanta emission rate of SARS-CoV-2 for infection risk assessment. medRxiv. Published online 2020:2020.04.12.20062828. doi:10.1101/2020.04.12.20062828
30.        Tellier R. Review of aerosol transmission of influenza A virus. Emerg Infect Dis. 2006;12(11):1657-1662. doi:10.3201/eid1211.060426
31.        Judson SD, Munster VJ. Nosocomial transmission of emerging viruses via aerosol-generating medical procedures. Viruses. 2019;11(10). doi:10.3390/v11100940
32.        Doremalen N van, Bushmaker T, Morris DH, Holbrook MG, Gamble A, Williamson BN. Aerosol and Surface Stability of SARS-CoV-2 as Compared with SARS-CoV-1. N Engl J Med. Published online 2020:1-3. doi:10.1056/NEJMc2004973
33.        Kampf G, Todt D, Pfaender S, Steinmann E. Persistence of coronaviruses on inanimate surfaces and their inactivation with biocidal agents. J Hosp Infect. 2020;104(3):246-251. doi:10.1016/j.jhin.2020.01.022
34.        Chin A, Chu J, Perera M, et al. Stability of SARS-CoV-2 in different environmental conditions. Lancet Infect Dis. 2020;5247(20):2020.03.15.20036673. doi:10.1016/S2666-5247(20)30003-3
35.        Sandora TJ, Shih MC, Goldmann DA. Reducing absenteeism from gastrointestinal and respiratory illness in elementary school students: A randomized, controlled trial of an infection-control intervention. Pediatrics. 2008;121(6). doi:10.1542/peds.2007-2597
36.        Otter JA, Donskey C, Yezli S, Douthwaite S, Goldenberg SD, Weber DJ. Transmission of SARS and MERS coronaviruses and influenza virus in healthcare settings: The possible role of dry surface contamination. J Hosp Infect. 2016;92(3):235-250. doi:10.1016/j.jhin.2015.08.027
37.        Azor-Martínez E, Gonzalez-Jimenez Y, Seijas-Vazquez ML, et al. The impact of common infections on school absenteeism during an academic year. Am J Infect Control. 2014;42(6):632-637. doi:10.1016/j.ajic.2014.02.017
38.        Snyder KM. Does Hand Hygiene Reduce Influenza Transmission? J Infect Dis. 2010;202(7):1146-1147. doi:10.1086/656144
39.        Yang C. Does hand hygiene reduce SARS-CoV-2 transmission? Graefe's Arch Clin Exp Ophthalmol. Published online 2020:5-6. doi:10.1007/s00417-020-04652-5
40.        Santarpia JL, Rivera DN, Herrera V, et al. Transmission Potential of SARS-CoV-2 in Viral Shedding Observed at the University of Nebraska Medical Center. medRxiv. Published online 2020:2020.03.23.20039446. doi:10.1101/2020.03.23.20039446
41.        Döhla M, Wilbring G, Schulte B, et al. SARS-CoV-2 in environmental samples of quarantined households. medRxiv. Published online June 2020:2020.05.28.20114041. doi:10.1101/2020.05.28.20114041
42.        Fischer EP, Fischer MC, Grass D, Henrion I, Warren WS, Westman E. Low-cost measurement of face mask efficacy for filtering expelled droplets during speech. Sci Adv. 2020;6(36). doi:10.1126/sciadv.abd3083
43.        Lewis D. COVID-19 rarely spreads through surfaces. So why are we still deep cleaning? Nature. 2021;590(7844):26-28. doi:10.1038/D41586-021-00251-4
44.        Science Brief: SARS-CoV-2 and Surface (Fomite) Transmission for Indoor Community Environments | CDC.
45.        Kitagawa H, Nomura T, Nazmul T, et al. Effectiveness of 222-nm ultraviolet light on disinfecting SARS-CoV-2 surface contamination. Am J Infect Control. 2020;000:17-19. doi:10.1016/j.ajic.2020.08.022
46.        Lindblad M, Tano E, Lindahl C, Huss F. Ultraviolet-C decontamination of a hospital room: Amount of UV light needed. Burns. 2020;46(4):842-849. doi:10.1016/j.burns.2019.10.004
47.        Welch D, Buonanno M, Grilj V, et al. Far-UVC light: A new tool to control the spread of airborne-mediated microbial diseases. Sci Rep. 2018;8(1):1-7. doi:10.1038/s41598-018-21058-w
48.        Kompatscher K, Traversari R. Literatuurstudie Naar de Toepassing van Verschillende Luchtreinigingsmethoden Voor Inactivatie van Microbiologische Verontreinigingen.; 2022.
49.        Ratnesar-shumate S, Williams G, Green B, et al. OUP accepted manuscript. J Infect Dis. 2020;(52281):1-9. doi:10.1093/infdis/jiaa274